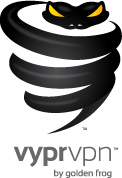 Today, we are pleased to announce that every Giganews customer, from Diamond on down, can add Goldener Frosch's full suite of VyprVPN personal VPN services to their Giganews account, including OpenVPN and NAT Firewall.
In March 2010, we announced our partnership with Golden Frog and introduced Diamond members to VyprVPN using PPTP – an older, basic VPN protocol. On February 9th, 2011, we added VyprVPN's L2TP/IPsec protocol to the Diamond Account at no additional cost.
Over the past year, Diamond members have enjoyed VyprVPN's increased security. Many Diamond members have asked for the full suite of Golden Frog's privacy tools and we listened. Today, Giganews Diamond members can purchase the following VPN options:
OpenVPN: $5/month
NAT Firewall: $5/month
In addition, all other Giganews accounts can add VyprVPN's personal VPN service to their service. VyprVPN PPTP and L2TP/IPsec will continue to be included at no additional cost with our premium Diamond account. Other accounts can purchase the following VPN options:
PPTP + L2TP/IPsec: $10/month
PPTP + L2TP/IPSec + OpenVPN: $15/month
NAT Firewall: $5/month (requires a VPN protocol option)
All current members can manage their VyprVPN services through the Giganews Control Panel. New customers can sign up for a Giganews Usenet account to get started. A Usenet account is required to add VyprVPN and NAT Firewall.
What is OpenVPN?
OpenVPN is the premier VPN protocol designed for modern broadband networks, providing the best speed and stability.
Highlights:
SSL/TLS encryption standard – the same standard used by secure e-commerce sites
256-bit encryption – same strength used by financial institutions
Consistent speeds over long-distance networks between countries and continents
Extremely stable and fast over wireless networks, including Wi-Fi, cellular and wireless ISPs
More easily passes through NAT configurations (e.g. wireless routers) and corporate firewalls
Less CPU usage resulting in faster speeds and less latency.
What is NAT Firewall?
NAT Firewall is a packet filter that prevents third parties from exploiting security vulnerabilities. You must add a VyprVPN VPN option to purchase NAT Firewall.
Highlights:
Prevents inbound connections from accessing your device
Mimics the behavior of a wireless router to maintain protection against outside threats
Blocks malware and malicious hackers from probing your device for network vulnerabilities